HOT DEALS
Check out the large assortment of products that can only be found here
Experience the Planet Kraken Community
Diving is a social sport
Join our vibrant community of divers. Share your experience, expand your diving IQ, and build your network of fellow diving aficionados to maximize your bottom time.
It's all about connection at Planet Kraken.
How it Works
It can't be any simpler!
Create your Store
Set up your Merchant account
Create your seller allias
Add products you wish to sell
List, Promote, Share
List your product for others to see
Promote product to make them move visible
Share your listing within the community and
social media
Sell, Ship, Collect
Receive sale orders
Package and ship sold products
Get money directly to your bank account
Search and Find
Search, Filter and Sort products
Select the product you like
Ask questions, like it, share it, buy it
Customize your Listings
Create an account
Set your buyer preferences
View only the items of your interest
Post, Share and Discuss
Post products with the community
Share products in social media
Discuss your items to get attention
Share knowledge, Discuss
Read and participate in discussion
Contribute your expertise and help
Get noticed and earn badges
Follow People and Topics
Follow the people of competency
Filter your news feeds by topics
Join groups with the same intrests
Crew Posts and Groups
Share your ideas and thoughts
Form groups and topics
Post pictures from events and trips
Benefits of Membership
Safe, Secure, Simple
Buy and Sell Safely
Our members are verified and we stand behind all transactions.
Data Security
Planet Kraken does not sell data. We do keep your records confidential, and all transactions are secure.

Anonymity
Create multiple seller accounts and offer goods with privacy.
Efficiency
Fast, easy, current. Finally, an easy way to buy/sell and communicate created specifically for all your diving needs.
Free to Join
Planet Kraken is all about community, shared experiences, and a way of life. We don't think anyone should pay to connect with fellow diving enthusiasts. At Planet Kraken, it's FREE (yep, no charge) to join, list equipment, and connect with members. We don't tack on any extra fees when you purchase equipment, either.
Community Benefits
Find fellow divers according to diving methods and/or geographical location. Get the inside scoop or share it with others.
Divers love our marketplace!
Equipment is life
Our members love how simple and secure it is to buy and sell on Planet Kraken.
Create an account (or multiple accounts, if you like) and list for FREE
Search for items and set notifications for a heads-up when an item that matches your criteria is listed for sale
We stand behind every transaction with the security of Planet Kraken Protection

FIRST LAST
Get feedback on potential buys and share your own experiences with fellow divers looking for advice.
Buy with confidence
One post shares your potential purchase on Planet Kraken and your social media network, adding the benefit of personal reviews and insight to your buying decision
Novice or expert, share your experience to help other divers evaluate equipment purchases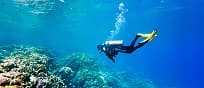 FIRST LAST
Diving is a social sport – Planet Kraken leverages connections to maximize your dive life.
Connect with divers all over the world
Access a treasure trove of experience and information by following the topics and members of your choice
Add your voice to the diving world by creating and contributing to discussions, sharing experiences, and helping others discover the equipment and dive sites they'll love

FIRST LAST
A few words from us...
Planet Kraken. Dive life amplified.
Welcome to Planet Kraken! We've created a diving marketplace exclusively for fellow enthusiasts, harnessing the power of e-commerce and a vibrant social network to connect divers all over the world and throughout the Seven Seas.
Membership is free. Join today and connect with people who love what you love.
Diving is a social sport. Planet Kraken provides the perfect platform for sharing experiences and buying and selling equipment.
Connect with our community today to maximize your dive life!

Dive-In & advertise here!
Info@PlanetKraken.com